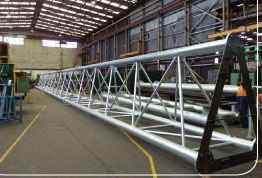 Responding to client needs
14 June 2016
Chess appoints full-time welding inspector
Steel structure works have become a speciality for Chess Engineering in recent years, and more particularly sign structure works and gantries on roads and freeways. Elham Haddo, Project Manager at Chess Engineering says, "a recent project providing gantries for Visual Messaging Signs (VMS) on a major Sydney freeway highlighted our need to have a welding supervisor in-house to supervise the welders throughout the fabrication and ensure that Chess follows specific guidelines and procedures. It is a critical part of the process. If welding specifications are not met, there is a chance the joints may fail. Whether we are dealing with steel structures such as toll gantries on motorways or pipelines carrying natural gas, defects could cause a catastrophic fail of the structure and place lives at risk."
"Chess appoints an in-house welding inspector to provide added value services to clients"
While the focus remains on Chess' qualified welders completing the works to the highest quality, having an in-house welding inspector make Chess one of only a few contractors able to provide this service themselves. Elham says, "previously we have had to contract this service to a third party. Now we will be more competitive, plus the welding supervisor will start working towards Chess completing certification to Welding Quality Assurance ISO 3834.2, which ensures best practice and consistent quality of welded joints.
Chess also has registered contractor status with Roads and Maritime Services to complete steel structure fabrication works, and these works require a welding inspector to supervise the welders at all times, prepare all procedures and work out the preheat requirements for specific joints. Welding components may not be a large part of a project so this can add time and cost if the project team is waiting for an outside inspector. Now we can offer a certified welding inspector – an expert in all the codes and specifications that need to be adhered to. Together with our experienced team and state-of-the-art boiler shop, we can complete the entire job in-house."
For more information, please contact Elham Haddo
at Chess Engineering on e.haddo@chessindustries.com.au or (02) 9772 2355.