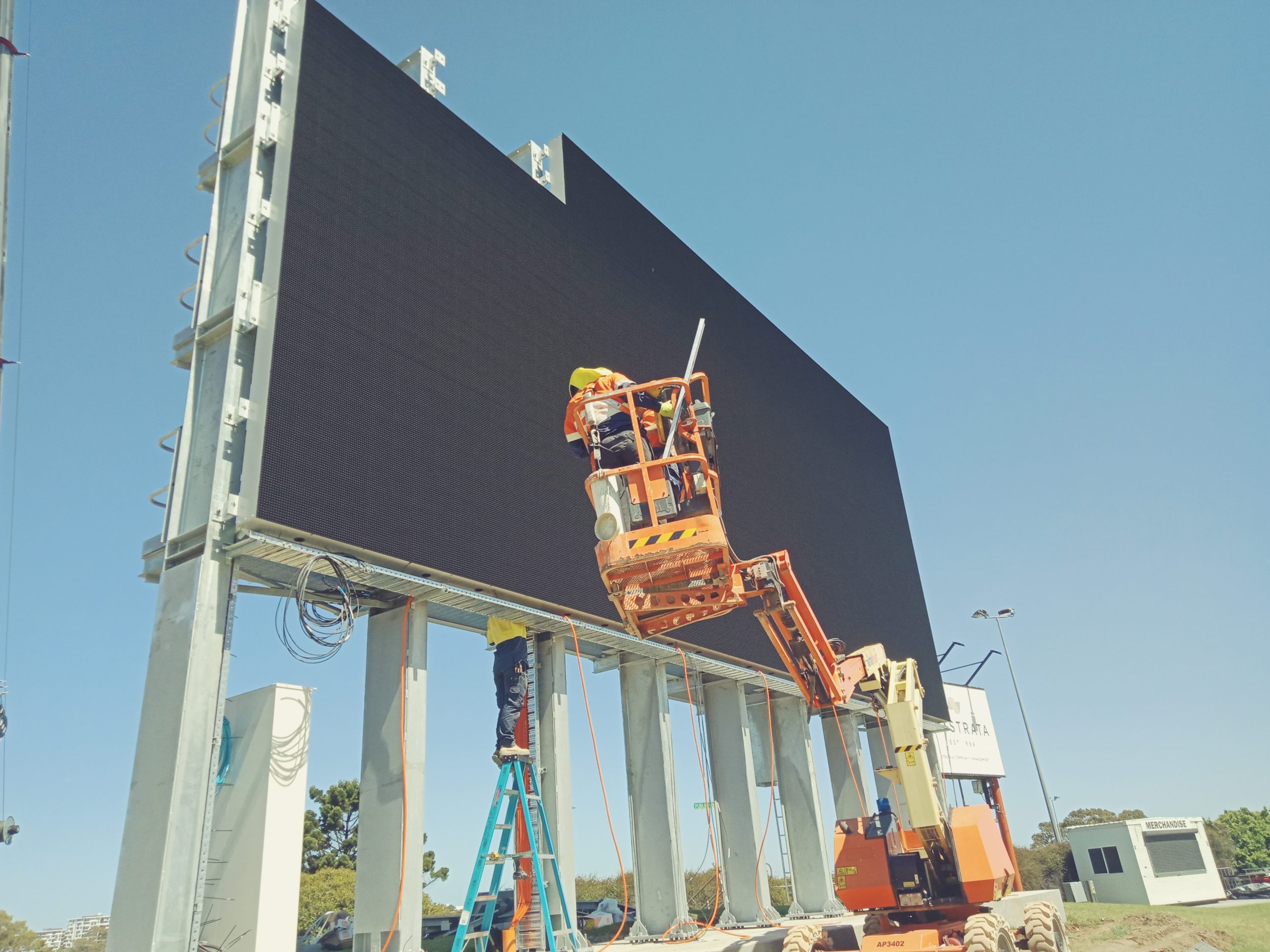 Jubilee Oval Sign
17 June 2020
Netstrata Jubilee Stadium is the home ground of St George Rugby League Club. It also regularly hosts Sydney Football Club as their second home ground. We were contracted to construct a large LED display at the stadium to replace a much smaller manual sign structure.
Working for our client, Mitsubishi, Chess Engineering fabricated and installed the large LED scoreboard on the eastern side of the oval. A mix of skills was required: civil, mechanical, minor electrical and minor landscaping. Civil works were extensive and demanding, with a range of skills needed to complete the project according to specification.
Civil works included difficult access to sight, creation of footings, and post job landscaping. This sophisticated sign sits on nine legs about 3 metres off the ground, 16 metres in width and 10 metres in height. It is a mild steel fabrication, galvanised and set into footings. Access was slightly problematic and a large reach crane was needed for parts of the installation, supported by a knuckle boom EWP.
There were 32 Mitsubishi LED panels installed and fitted with 1 mm tolerance. The accurate, even, and tight spacing was critical in order to achieve high resolution in the overall display. Great care had to be taken in handling the individual panels due to their high value. All fabrications were performed inside the Chess Engineering workshops at Padstow.
Timelines were shortened from our original estimate, which is something we get used to more than we would prefer. However, it was critical to complete the job ahead of the inaugural and televised match between Sydney FC and Melbourne Victory. We are pleased to say the project came in on time and within budget.
This was a satisfying job for several reasons. Not only was Mitsubishi a great partner to work with, but the location of the site was in quiet and pleasant surrounds. Once complete, it was great to see our combined handiwork on national television. This is another legacy job that we shall be proud of for many years to come.