Most of his experience comes from working overseas with large multinationals in the field of agricultural chemistry. In a lucky brain snap, returned to Australia in 2002 and bought Chess Industries. He likes positive, continuous change, asks "What's the answer?" and enjoys the team environment.
PS Wishes he could play golf better.
Greg is the Chess Industries group CFO, located at the Padstow office. Unlike many CFOs, he readily joins in whole team discussions and our quest for improvements.
He has experience across a range of industries including financial services, hospitality and engineering manufacturing.
PS Loves cake and golf.
Elham Haddo
NSW General Manager
With a Master degree in Mech. Eng. and some years as Project then Engineering Manager, she combines well her technical and practical knowledge with strong interpersonal skills.
Elham very much enjoys continuous learning and is now completing an MBA.
PS Chocolate will always win her smile
Akbar Gilvan
NSW Operations Manager
A critical thinker with a Masters in engineering and particular experience in Infrastructure. His years of experience are supported by qualifications in P.M.P. and Six Sigma Green Belt.
Akbar's role is to facilitate workshop efficiency with emphasis on DIFOT.
PS Loves football and whiskey.
Bill has a highly energetic and enthusiastic personality who enjoys engaging with clients to solve their issues and provide them with solutions.
He is an accomplished and highly effective professional, adept in Project Management and Engineering with an extensive background in the rail industry previously working for UGL and Downer.
PS In his spare time he runs a bespoke vintage cocktail caravan bar as he loves to entertain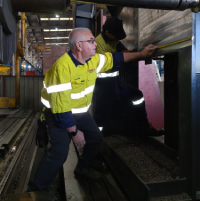 Stephen Du Toit
W.A. Operations Manager.
With years of machining as a tool & die maker by trade and the experience of having his own business, he is a mixture of practicality and business efficiency. A high energy performer with good people skills, one of Stephen's mantras is team communication.
PS As an ex-international motorcycle racer he adores motorsports.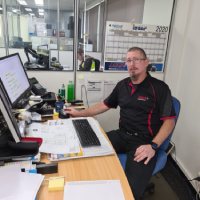 Ivan Mumford
W.A. Engineering Manager
Deeply practical due to his initial years as a qualified boilermaker. He is able to develop a positive rapport with clients due to his relaxed, professional approach. A man who commits and sticks to those commitments.
PS. Just talk motorbikes with him or anyone in his family.
Mark Percival
Production Manager (Perth)
Chess WA's Production Manager enchants all visitors with his depth of knowledge in the type of works undertaken by Chess in Perth. Runs a workshop exceptionally well.
PS loves fishing.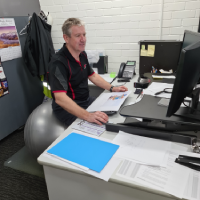 John Hughes
Business Development Manager (WA)
Diverse management and industry experience with an ability to think outside the square and add value to processes and solutions. A practical background as a qualified electrician and previous owner of a bespoke sign business specialising in large fabricated building and pylon signs. Adds additional management experience to the WA Team.
PS Loves riding pedal bikes and Rugby.
Anoer Abdulwahab
NSW Technical Manager
Anoer is the Technical Manager for Chess Engineering (NSW) at Padstow. Raised as an apprentice at Chess, then our team Kellogg supervisor followed by sheet metal shop Foreman and onto Production Manager. Now he is Technical Manager – a role purely dedicated to providing practical solutions to our most key clients. High energy, practicality and engagement characterise his style.
PS Loves collecting, tidiness and Ford muscle cars.
Stan Graham
Systems Manager
Stan is Systems and Quality Manager for Chess Engineering (NSW) at Padstow. He started as a toolmaker in Ireland and his sense of precision and accuracy has remained with him. A great source of practical solutions.
PS Our secret clever egg weapon